What's in our Fishing Bags?
Our two favorite styles of fishing bags are one that is fairly simple, and one that is even simpler.
Tunas Simple Bag.
In the video, Tuna shows off his simple bag which has all of the basic essentials and then some extra things that are nice to have.  
- Tacky Day pack loaded with Tenkara flies.
- Basic waterproof fly box with a nice assortment of dry flies.
- 4x, 5x, and 6x tippet.
- Hemostats
- Nippers
- A few extra lines
- Lochsa floatant for dry flies
- Payette paste to help a furled line float (if you want it to)
- Extra line holder
- Water purifier (Lifestraw)
- Fire starter
- Allergy medicine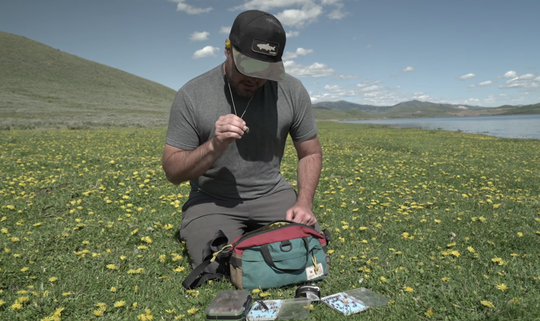 There are definitely times when we have more gear with us, and sometimes when we have even less.  But Tunas bag is a great example of taking just the essentials for a nice Summer day of fishing.
Often times we are fishing a new spot and we aren't totally sure what will work so it is nice to have options.  That is when we will take more flies.  Or other times on certain rivers where the fish are very picky with the hatches, we might take an emerger box, and a separate box with adult mayflies.  But the vast majority of the time we carry around a bag similar what Tuna showed us.
"You might be out hiking, backpacking, camping, or riding your bike around and you don't always need to take the full setup."
On the other hand there are times when it makes sense to take as little as you can get away with.  These opportunities are so much fun because you take hardly anything and you see what you can get away with.  It is so rewarding to pack a little bag on a bike ride and end up catching some fish with it.
Drew's Simpler Bag
Sometimes you want to take even less things.  Drew shows us what he puts in his bag for those quick trips where you want to be as minimal as possible.
- Small little zipper bag (these come in our rod packages now).
- 5x Tippet
- Extra spool of line on a line holder
- Small tin of flies (tenkara flies, stimulators, wooly bugger, a nymph or two)
- Nippers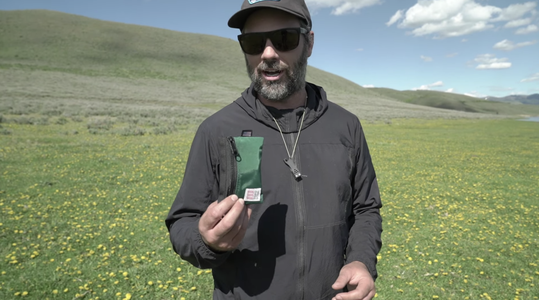 Thanks for checking out the video this week!  We have new videos here and on our YouTube channel every other Tuesday.  Some of them are informational, and others are just because we like to get out and fish and have a good time.  If you like what you see go comment on our YouTube channel and let us know if there is something you want to see!